Household
Glass art can be used to brighten the home and provide a new and interesting variation of many traditional household objects. Here are just a few of the everyday household items that can be turned into attractive and novel features.
Clocks
Wall mounted or free-standing clocks, in different designs and colours.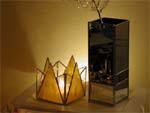 Vases
A variety of different styles of vases.
Mirrors
Large or small, mirrors can be enhanced to dramatic effect.